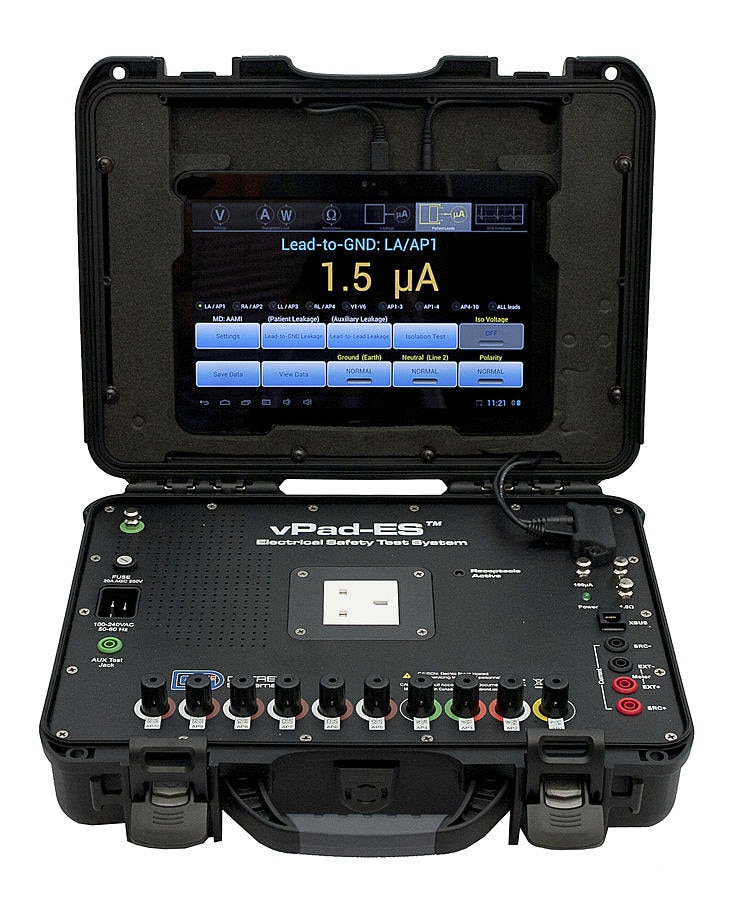 Electrical Safety/Performance Assurance and Preventive Maintenance
The vPad series of electrical safety tesing devices combines
an Android tablet (wired or wireless) with a measurement
plaform to create a revoluionary test system. The measurement
plaform provides the normal assortment of electrical
measurements (voltage, current, and resistance) of the
commonly used medical Electrical Safety Standards. The
Android tablet provides unprecedented usability and scalability.
The screenshots here show typical displays with large,
easy‐to‐read measurement results and funcion selecion butons.
The basic manual safety analyzer is provided in three versions:
a small manual‐only version ( vPad‐Mini), a desktop version
(vPad‐ES 2) and a portable version (vPad‐Rugged 2). The vPad‐ES 2
& Rugged 2 manual versions allow all required parameters to be
measured individually. As results are saved, a test record is
created. While tesing, comments can be added to results as
they are saved, and a 25 point Equipment Inspecion (ECRI )
can be performed. When tesing is complete on a device, the
test results can be saved as a report.
CMMS Integration1
■ Complete integraion with Computerized Maintenance
Management Sotware (CMMS) Systems to the vPad
Safety Analyzers for beter management of Prevenive
Maintenance and Repairs
■ Datrend Safety Analyzers communicate with many
commercially‐available CMMS Systems (AIMS, HEMS,
Medimizer, TMS, TMA, Conneciv, and more.)
■ Bi‐direcional communicaion – download equipment list
and/or work orders automaically, complete work orders
and upload completed test records back to CMMS Systems
■ Local and remote access capabiliies
■ Supports both web‐based and legacy medTesterTM type
CMMS Systems
1
ES & Rugged models only